TMO is ideally placed to provide value added integrated solutions to the challenges of waste management, converting low value waste into high demand, high value energy.
We have an international reputation forged from over 10 years of process development and we work with our customers to deliver the products and services they need.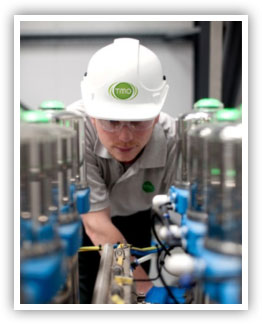 TMO stands for 'thermophilic (heat-loving) microorganism' – the bacterial ethanologen at the core of our proprietary TMO Process. This microorganism efficiently converts carbohydrates into ethanol from a wide range of non-food feedstocks at high temperatures. The TMO process exploits these properties to make ethanol in a way that lowers many of the economic barriers that have previously restricted the development of cellulosic ethanol production.
However, we are not all about "the bug", nor just solely focussed on ethanol.
In developing our process we have gained significant experience in delivering waste feedstocks in a form that can easily be converted into energy products. In addition, we have a bespoke set of tools that allow us to engineer the TMO Organism to make a range of products – other fuels, commodity chemicals or even higher value compounds. Key to TMO's success is our integrated approach to developing our processes and solutions.
We offer all this and more to our customers:
The Argonaut Process for improved feedstock processing
Feedstock Testing Program specifically tailored to meet customer needs
An integrated waste conversion process 'sponsored' by this platform organism
Integrated engineering and biotechnology expertise to deliver bespoke waste solutions